2023 Company Trip: Yes We Punta Cana
Dragon Army's annual company trips are legendary. Well, at least if you're a Dragon. Even before I became a full-time member of the Dragon Army team, I'd heard about the entertaining antics, spontaneous dance parties, adventurous outings, late-night conversations, and laugh-till-you-cry moments that are the hallmark of these trips.
So when I heard that a 2023 trip was happening after a two-year hiatus — and to the Dominican Republic, no less — I was beyond excited. We all were.
Have culture, will travel
One of the key things that makes Dragon Army's annual trips so relaxing and fun sits at the foundation of who we are as a company: our culture. Everything we do (yes, even a dance-off by the pool or an "interpretive karaoke" rendition of Til Tuesday's "Voices Carry") is grounded in our purpose, which is to Inspire Happiness.
Being a purpose-driven agency guides how we approach our work, both as partners and colleagues. It also enables us to recruit and retain exceptional people who share our sense of purpose. We're collaborative, caring, thoughtful professionals who want to do our best work and have fun along the way. As a result, traveling together is not just easy. It's an absolute pleasure.
The journey is the destination (and vice versa)
A group of Dragons is called a thunder. And several small thunders of us coordinated so we could be on the same flights, to and from Punta Cana. This made getting there all the more enjoyable — and any logistics challenges we encountered along the way — much more tolerable. It also gave us the opportunity to talk 1:1, learn more about one another, ask more questions about our lives and personal interests, and generally spend time pondering, laughing, and joking about "not work."
Four days relaxing and adventuring in the DR
We stayed at an all-inclusive resort in Punta Cana called Live Aqua for four days. And everything there was just ducky. Sometimes literally.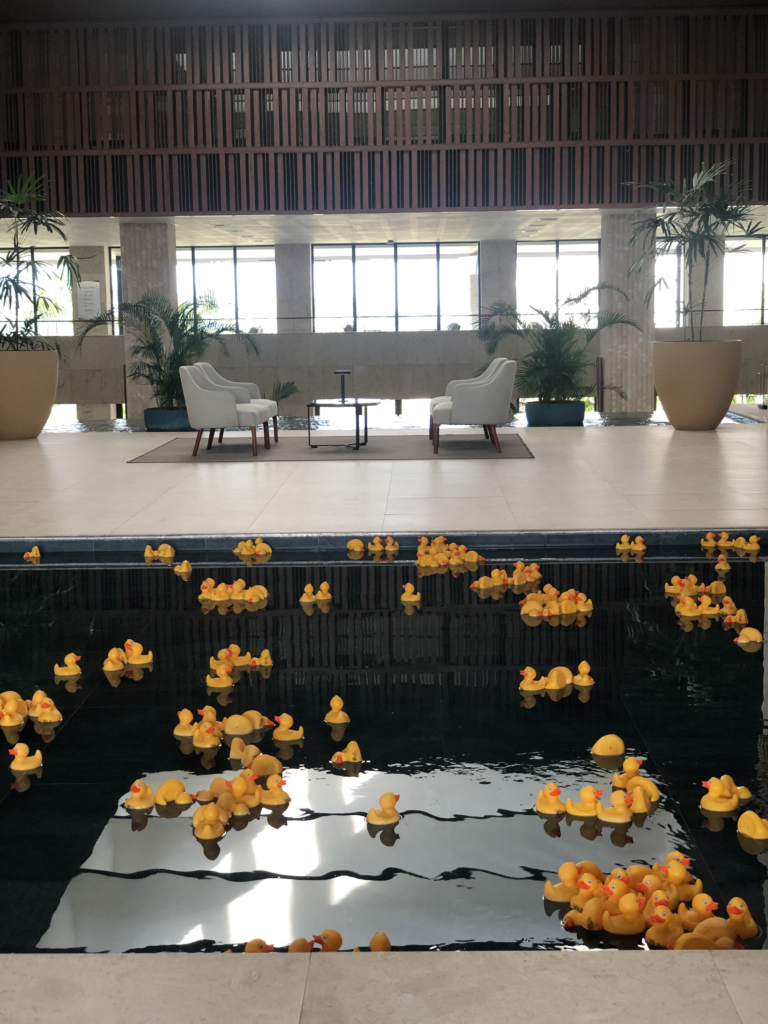 The scenery, beaches, lounge areas, pools, swim-up bar, restaurants, and entertainment made it easy for us to collectively live one of our core values: have fun. (I mean, we also lived our other values — team first, think positively, celebrate diversity, and do good — but "have fun" was, like, the most noticeable.)
Yes, we talked about work. But that's not the point.
When you're traveling with people from work, it's only natural for conversations to come up about current projects, issues that you're working through, the latest news on a deliverable, questions about an upcoming deadline, etc. And yes, that happened.
But what also happened was earnest interest, because (no, really) none of this felt like an annoyance to anyone. In fact, I saw people smiling, laughing, rolling their eyes, leaning in, shaking their heads with a wry smile, or hopping excitedly into the conversation. Why? Because we were enjoying ourselves. And just in case you think this "fun work chat" is what a lot of the trip was like, nope.
We spent about 98% of our time relaxing beachside or poolside or dancing beachside or poolside or dining beachside or poolside or laughing and chatting beachside or poolside (there was ample beachside and poolside to be had). Some of us even went on daytime excursions to ride dune buggies, go snorkeling, and relish other tropical adventures. So sure, yes, many of us had organic work-related conversations where we compared notes, solved problems, offered ideas, collaborated, etc., but the point is that wasn't the point.
Bringing it home
They say all good things must come to an end, but in this case, not really. Because the experience stays with us. For me, this trip in and of itself was wonderful. But being able to share it with this special group of people who feel (now more than ever) like family to me was an invaluable gift. And when I think about how few people, work-wise, get to experience and enjoy this level of genuine connection across teams — not only as professionals but as individuals, as friends, as human beings — I feel incredibly fortunate and blessed.
So that's my biggest takeaway from traveling and spending time with my fellow Dragons … which, to be honest, is less of a takeaway and more of a confirmation of an existing suspicion: I work with some truly incredible people. Oh — and the guests they brought? (Because we can all bring a plus one, whether that person's a partner, friend, or family member.) Equally exceptional. But of course they were. Because good attracts good. That's Dragon science.
I've shared a lot of my own words about how wonderful this trip was, so I thought I'd close with a few from my fellow Dragons:
"I don't know what other companies have people staying up sharing personal stories, encouraging feedback and laughs till 2am — but Dragon Army does!" – Jesse Wallace
"Since I'm so new, I didn't know what to expect, but you guys all let me borrow on years of your own investment into relationships at DA. The most welcoming and fun group!" – Baylee Mauro
"As I relive the trip multiple times (telling everyone about it) all they can say back is, 'Wow, that sounds amazing, you are so lucky!' or 'I want to be a Dragon!' All of which I say yes — and yes — to." – Kelsey Calhoun
"I don't get the chance to work with a lot of Dragons because of the nature of my projects, but I never felt a second of that the entire trip. I know I tell you I adore you all of the time, but I felt so much love, friendship, and good vibes. Can't wait until we can hang out in person again!" – Faren Coday
"Trip of a lifetime, no voice (thanks Jess + Karaoke), and it's impossible to pinpoint the best highlight. Thanks to all of you for making it so special and memorable." – Paige Sanders