Positive Relationships are Fuel for Delight and Growth
Whether you're operating a service-based agency or consultancy, or your company delivers products, everything you do ultimately hinges on the health of your partnerships. (That's not news.) But what is worth discussing is that, just like anything you craft, build, develop, and deliver, managing positive relationships should be a disciplined process executed with practice, precision, and skill.
At Dragon Army, our purpose is to Inspire Happiness. The first measure of our performance against that purpose is through how we activate positive relationships. As a marketing agency, creating positive relationships is literally what we do to help our clients drive necessary business outcomes. But that's hardly the reason why we put it first on a purpose activation list.
Without positive relationships, nothing else we do is as meaningful. Could we do impactful work in web, brand, content, and emerging technology? Of course. Could we use our skills to do good? Definitely. Would either matter as much? Not a chance. Partnerships guide the reason for our work and, quite often, the form it takes.
On the client side, our partners trust us enough to treat us like members of their team, so we know what is most impactful to their short- and long-term plans. Our partners in the industry help us bring specialized skills and ideas to the table that make what we deliver even more interesting and useful. Our partners in the community help to open our eyes to needs that our team can help to support.
This article offers a look at how partnership is operationalized across a company, from launching with a contractual shared promise to setting and assessing KPIs as the partnership evolves. As ROI is top of mind and hiring is harder than ever, partnership health is not just a way to differentiate your company — it may be tantamount to its long-term survival. We hope this is helpful. Let's jump in.
Partnerships Purpose-Built to Deliver on Promises
When you meet someone new, chances are you'll have a few priority considerations. Are they receptive to the connection? Are they going to balance your investment in them with interest in you? Why is a partnership mutually beneficial? Where might the relationship go?
From the moment you first meet a prospective client, these considerations are (or should be) top of mind. If the answers are affirmative, you have a great opportunity ahead. And kicking it off with a high degree of intentionality, structure, and rigor is a great way to build a solid foundation.
From the moment you shake hands and sign a contract, consider how you will make and deliver on promises and measure progress. Remember that no client relationship is static. It is not going to feel or work the same at the one-year mark as it does at the start, and it will continue to evolve over time. Here's where a Partnership Pact is so valuable.
---
Mutually Assured Happiness: The Dragon Army Partnership Pact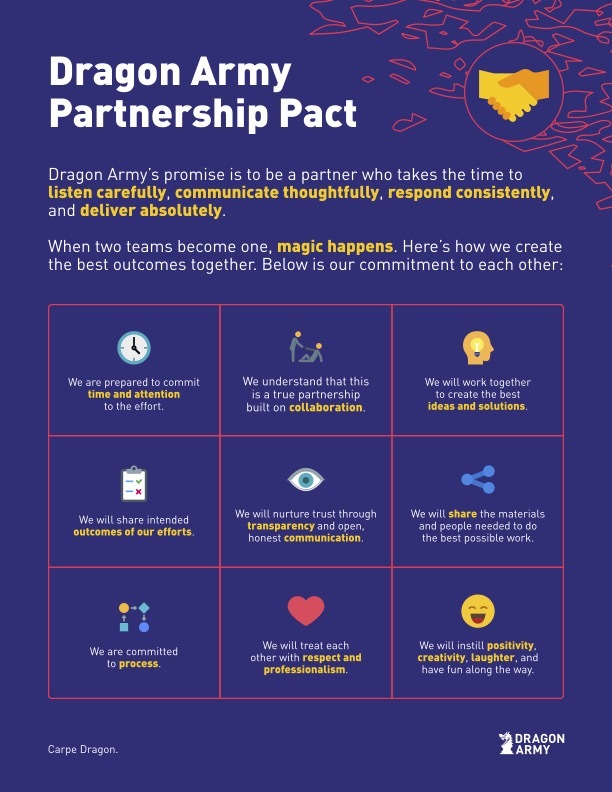 To build and maintain productive, mutually beneficial, and (most importantly) delightful client relationships, both sides need to be equally invested in its health and success.
The Dragon Army Partnership Pact demonstrates our commitment to our partners and invites them to show that same level of commitment to us. It's part of the initial kickoff, along with signing the contract, and it goes on to shape every quarterly health check and annual NPS survey.
While ROI is certainly a way to Inspire Happiness, a truly rewarding partnership takes more than what's expected. The Pact is a reminder and checkpoint.
---
Be careful not to "set and forget" an initial partnership agreement, presuming that collaboration is sufficient to maintain the relationship. People cycle in and out of roles, and various pressures from the market and stakeholders reshape priorities and target outcomes. Part of operationalizing positive relationships is having a structured process owned by a team and activated daily. A shared Partnership Pact offers a touchstone that can keep the waters smooth and the tides rolling in the right direction.
Key Elements of Securing Positive Relationships
Consider your brand purpose and its values, and how you activate them in your organization. Use those commitments to put a Positive Relationships (daily!) checklist in place. Here are a few that we use as the foundation of our process:
Honesty:  From pitch day to win day to every day, we are honest in how we share information, answer questions and address any issues that may come up. 
Transparency:  We set expectations early and often and maintain an open line of communication to ensure our clients are always clear about what's what and what's next.
Accountability:  We aren't always perfect, and we do make mistakes (hey, even Dragons are human), but we admit when we fall short, explain how it happened, and then regroup to get back to exceeding expectations as quickly as possible.
Talent:  We are the best at what we do and deliver work that reflects the caliber and quality of that expertise.
Rigor:  We check in through daily, weekly, monthly, and quarterly performance reviews to see how we're doing when it comes to being an exceptional partner.
Fun:  We take pride in our ability to cultivate surprise and delight for our clients because it makes us happy to see smiles on their faces.
Care:  We care about the work we do, we care about our clients, and we care about their clients. A lot. We are a team of professionals who are personally invested in our partners and their well-being. "We've got you" means everything to us, and we make sure to show it.
Partnership Quality Metrics Matter
Delivering metrics always takes a degree of courage. And measuring the quality of relationships adds humility to the process. Do all you can to prioritize transparency and establish a set of metrics that will facilitate that process regularly.
Quantitatively, you can establish and measure KPIs such as length of client retention, number of unsolicited referrals, and organic contract growth. These metrics will form a statistical picture of how well your organization is performing and where you have the opportunity to improve. Qualitatively, you (or better yet, a third party) might have to ask the partner for their honest feedback. Do it. Testimonials are partnership measurement gold.
And make no mistake, your employee retention rates will tell a story about the impact of the quality of your relationships as well. As an example, we noted earlier that Dragon Army team members work with a purpose to Inspire Happiness through positive relationships. A 2022 HBR piece found that employees who can articulate a purpose are 49% more likely to report intrinsic motivation and 25% more likely to go the extra mile. At Dragon Army, they do, and it creates a virtuous cycle with our clients. Often, our Dragons get so excited about partners that they will pitch themselves to work on their projects.
And what's more, they stay. Our agency has enjoyed a 132% retention rate over 3+ years (i.e., no loss, all growth), which is significantly higher than the 90% considered good in the industry.
Real partnership means having the courage to be an honest advisor and sometimes that's uncomfortable. In the effort to offer consult that is best for the client's business, you might have to say "no" or provide different solutions than they initially requested.

Lauren Wishna, VP Account Director
Moving Forward as Partners
Hopefully, you're inspired to take a look at how well your partnerships are working across your ecosystem of clients, community, and team members. And ideally, you find that they are working well! But if you spot some gaps (which would be normal), consider some of these approaches. There are many reasons why Dragon Army earns an average 4.9/5 NPS score year-over-year or why we've got clients in our portfolio that have been with us for years; the intentionality of our partnerships is one of them.
And if you're looking for an agency partner that will do what it takes to support your success and inspire your happiness, reach out. We'd love to chat with you.