Remote Work is Our New Normal - and the People are Here For It.
Remember how in 2020 we naively overused the phrase "New Normal"? (We had no idea.)
For many of us, the change to where we work fundamentally changed how we work. But no matter how the business model has morphed or how many days each week we're rocking out the sweatpants, one thing remains. A strong organization keeps its people at the center of everything.
As COVID seems to have begun to subside 🤞🏻, we finally have started to settle into an actual New Normal. Ironically, where that phrase initially was so much about figuring out the abrupt shift to being apart, it really is more about figuring out new ways to be together. So many choices: required in-person work, optional time in-office, hybrid, remote. Each has its own pros and cons list.
Dragon Army has settled into our normal as a fully remote agency. We bring our people 'together' on screen throughout much of each day, together in small groups every two weeks, and together as a full company gathering at least twice each year. Rather than investing in office space, we have opted to invest in our people. From a productivity standpoint, that means providing a stipend for home office updates and excellent Wi-Fi. From a functional standpoint, it means putting resources in place that allow us to collaborate, nurture our culture, and come together purposefully. Most importantly, from a cultural standpoint, it means offering trust and autonomy to each team member and requesting their accountability in return.
Operationally, the decision makes sense. We've won awards for our digital engagements, have built LMS platforms to train thousands of smiling team members to offer "my pleasure" for one of the most beloved QSR brands, and are entrusted to craft a sweeping communication strategy for one of the most complex messaging challenges of our time. We're good at connecting people in a digital world.
But it's much more than our skills that make a remote work situation. . .well. . .work. Making sure it is productive and healthy takes a deeper level of listening and caring. So from the very beginning, we have attuned to how the manner in which people work allows them to feel and do their best.
"Control leads to compliance; autonomy leads to engagement."

Daniel H. Pink (author of The Power of Regret)
What Have We Learned?
Company leaders have spent the past two years trying to determine whether to keep doing what they've been doing, just in a remote digital environment or if they need to make fundamental shifts to the model. We've observed our own organizations and others' decisions and outcomes to gather longitudinal insights (reliable information that comes from observing the same variables over time) about what works and what doesn't for a company and, more importantly, its people.
With two years of hiring, retention, business development, financial, innovation, growth, and cultural data, many companies are telling a pretty clear story about what works for them and why. And so are their workers. People at every phase of their career and in every industry have taken this very strange time to assess what works best for their productivity, efficiency, mental wellness, and economic security. And a lot of them have taken steps to change their employment situation (to be exact, 47 million people quit their jobs in 2021).1  
Two years in at Dragon Army, we have seen that what Inspires Happiness for our people is trust and autonomy. And we've seen proof that happy team members mean happy clients. More than seeing it, we're measuring it. (You know the old saying, what gets measured gets done.) And anyone who knows Dragon Army will expect that we are measuring that success based on our PVTV (Purpose, Vision, Tenets, Values).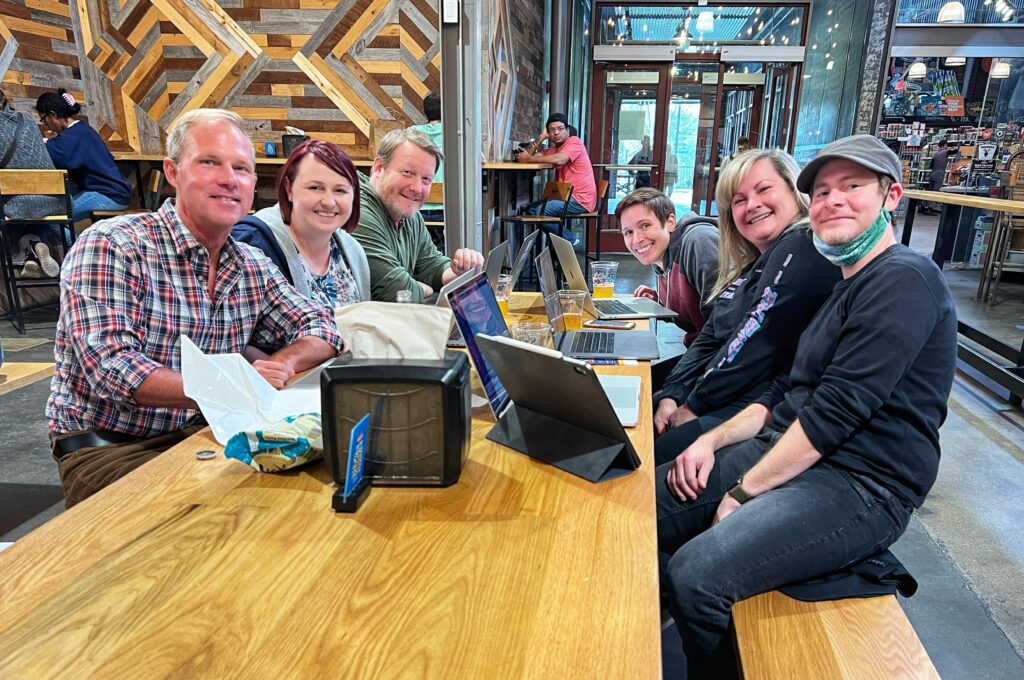 Attracting & Retaining Exceptional People
For Dragon Army, a healthy, high-performing workplace is remote. By planting that flag, we have been able to move our focus from where we might set up shop to making sure our people know what to expect from the company, our culture, and their colleagues.
Perhaps one of the best things about shedding location restraints is that the net you cast for talent gets exponentially wider. Don't get us wrong. We are Atlanta-based and Atlanta proud. But now, as we keep our beloved Atlanta as our headquarters, we get to attract and develop incredible, relevant talent from across the United States. We've got project managers, designers, and developers on our teams who are in Atlanta, Des Moines, Buffalo, Jacksonville, Indianapolis, and Austin. And many of our Atlanta team members have had the opportunity to move their families to pockets of the metro area that are better for them and their families.
We've got the "attracting" part covered, and it's added diversity and depth to our talented teams. As for the "retaining" part, we've got that covered too. Conducting stay interviews as well as annual performance reviews is an important part of the effort to ensure everyone has a sense of clarity and inclusion in the organization. And the conversations continue to reveal that the ability to choose where and how to work has boosted people's desire to develop and perform at an even higher level.
Across the workforce, generally, we've all seen that remote work has increased productivity. But for many people, the lack of boundaries can lead to working more, which has been shown to create anxiety and burnout.2 To combat that trend, the intention has gone into structuring policies and cadences that keep people connected.3 Rather than taking productivity increases for granted, we're encouraging fun, prioritization, balance, and healthfulness with things like wellness mini-games and dedicated paid hours for exercise during the week.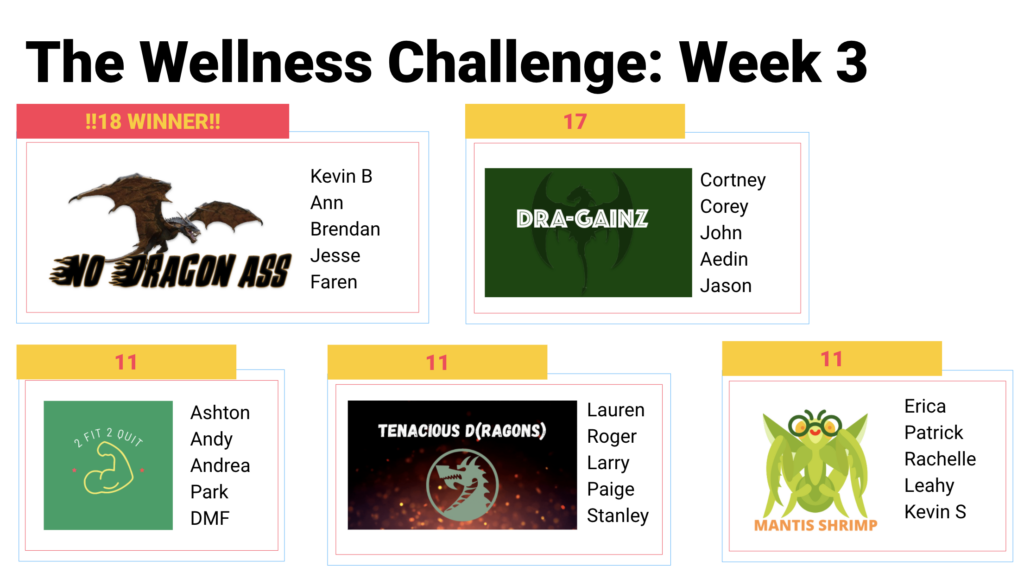 Building Remarkable Products & Experiences
At the start of 2022, we committed that our Inspire Happiness focus for the year would be on our people. One reason why is that we know that happy Dragons mean happy clients. As we see it, that happens through two main efforts — thoughtful innovation and close communication with our partners. As a client-service organization, it's as important to keep a pulse on how partnerships are performing. Hiring additional account and project managers allows the teams to understand areas of opportunity, not just for our clients but for our agency as well.
The success of this approach has proven out in the roll-out of a highly strategic proprietary digital engagement strategy called Applied Game TheoryTM (AGT), awards for our work in AR, and an average overall 2021 NPS of 4.9/5. All in Q1.
All of those are great markers of a successful approach on their own, but when we look at them through the lens of intentionality about creating a happy, healthy, well-informed distributed workforce, they're even more amazing.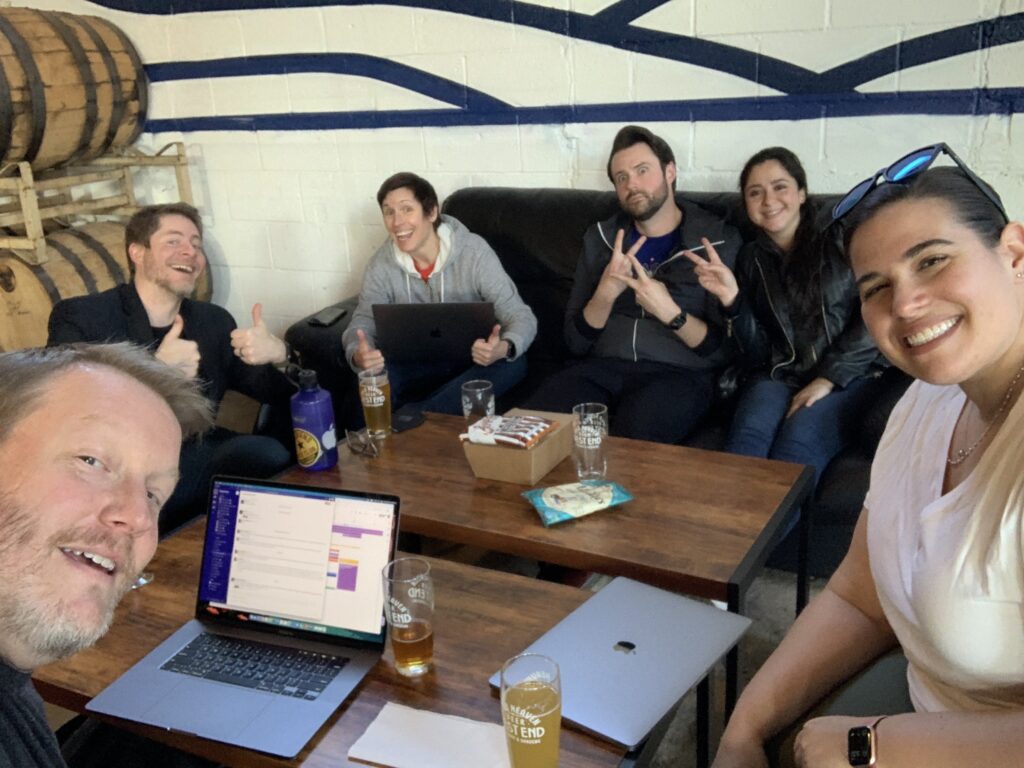 Striving for Operational Excellence
If there is anything Dragon Army is not, it's bloated. With a client roster that includes some of the most well-known and beloved companies and end-to-end capabilities that span building brands to building games, we perform like a much larger agency than we are. Our ability to punch above our weight comes from a commitment to operational excellence — a commitment that only got tighter as the shift to remote happened.
Operational excellence keeps people clear on priorities, KPIs, and progress. It fuels momentum, and ironically, it fuels culture as well. In fact, at Dragon Army, we've seen that rigor is the tie that binds. It lowers communication barriers, keeps us delivering with excellence, and fosters collaborative contributions. Without it, what you have is a loosely connected group of freelancers.
Make no mistake, we're not a group of introverts and homebodies. We get together as often as we can to share time as colleagues and friends. This is all about priorities. And our priorities are people.
If you're a person ready to build a career marked by autonomy, collaboration, inclusion, and delivery excellence, check out our openings. We're continuing to grow (not replace loss) and we'd love to talk to you, even if you're working from Timbuktu.